Over the years my blog posts have varied in content: personal reflections, commentary on current affairs, stories of my children, the trials and tribulations of writing – and publishing – a book, even (last time!) poetry! I allow it to be a free record of my life and times, my thoughts and what is happening in my little writing world.
But it is all fuelled by tea and biscuits.
I drink a lot of tea – too much, I am beginning to recognise, and it would be lovely for my browning teeth if I were to cut down. Last year a friend really helped me with my writing by gifting me a small pot of (posh) fresh tea leaves. There was a strict instruction:
For drinking when working on the book only. 
Looking back, this sounds a rather Alice in Wonderland style of instruction! However, it was great, as it made me go straight from teapot to work, rather than being side-tracked by post/reading/internet/emails/washing/ironing/anything-else-I-could-possibly-use-to-procrastinate. I would boil the kettle, make the tea and leave it (per instructions) for 4-5 minutes before pouring, then savour every drop as I drank it in front of the computer. It lasted until publication date, when I then enjoyed sharing it with friends too!
Biscuits, however, are another kettle of fish (though perhaps that's not the best metaphor to use!) I blame my mother-in-law for my biscuit addiction. (Her strong defence would be that I was already addicted to biscuits long before she made her comment, but her words have justified many, many packets of biscuits.) She said,
"Coffee you can drink on its own, but tea always needs a little something to eat with it."
Yes! Biscuits are justified with every cup of tea!
Now, you must understand the implications of my first paragraph about tea consumption. There is justification for a LOT of biscuits. Because it's hard to stop at just one, particularly if they are small…
So, it was with some trepidation that I woke on Wednesday morning, the first day of Lent, and the unbidden thought came to my head:
You should give up biscuits for Lent.*
Six weeks without biscuits? Are you mad?! I'll be breaking my mother-in-law's rule about 5 times a day! And how am I going to manage to write (complete?) my second book if I don't have this extra boost?
I know it will be good for me – for the hips, if nothing else. In an ideal world I would combine it with hours of gruelling fitness regime and a diet of celery and ryvita biscuits (oh, as I type that I assume I'm not allowed them either, being as they are biscuits…?) The slim, healthy, zingy Catharine would emerge at the end of April and you would barely recognise her. (Except for her increased grumpiness from lack of the food she enjoys!)
So far I have survived two whole days, and a morning 'elevenses' without the sugar stimulus. We'll just have to see if I manage to make it through to Easter.
*Though it should be noted that I haven't given up any of these…!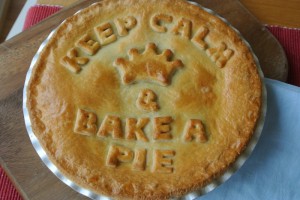 Life could be worse!