This week I am celebrating ten years since we arrived in Zambia, so I have planned a week of 'Ten' words. Today is the final day, collating some miscellaneous words and some near misses.
decastyle (noun)
An architectural term for a portico with ten columns in front
from Greek deka ten and styles a column
A portico is a fancy porch. We are familiar with the presence of columns (particularly on ancient buildings) to decorate a facade, and porticos are notable at the Pantheon in Rome and the Capitol buildings in Washington. Having ten columns at the front doesn't happen that often: I think ten is a nice number for a mathematician using arabic digits, but less aesthetically pleasing than (say) five. I know that when presenting a plate of food you should try to have odd numbers (e.g. 5 carrots and 3 tomatoes beside 1 pie), and so I suspect the same applies architecturally.
Still, University College London chose a decastyle portico, presumably back in 1827 when the quadrangle was begun. 168 years later it was finished, and a plaque commemorates its opening in 1985 by HM Queen Elizabeth II – perhaps one of the longest builds in history!
Perhaps the greatest 'ten' word – if only for the sheer bravery of attempting the task – is for the decathlon. This Olympic event is the most amazing feat of endurance and skill for any athlete: ten events, spread over two days. The events are: 100m, long jump, shot put, high jump, 400m, 110m hurdles, discus, pole vault, javelin and 1500m. During the early 1980's this was compulsive viewing for me growing up in the UK as Daley Thompson was crowned European, Commonwealth, World and Olympic Champion. I still remember the excitement and anticipation as he edged towards Olympic Gold, and the wonderful smile that spread across his face on winning.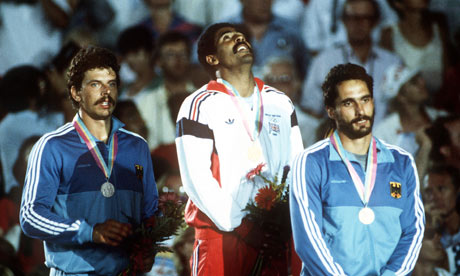 To round off my deca- words this week I'm leaving you with a warning. Don't be fooled into thinking that the following have anything to do with the number ten!
decayed (sounds like decade but isn't)
decanal (also has nothing to do with the waterways built during the Industrial Revolution, but relates to a dean or deanery)
decaffeinate (just why do it? A normal cup of tea is just fine!)
decennoval (relating to the number 19 – a word to recur in nine years' time!)
I hope you enjoyed my wander through the words of ten. Next week will be a lot more normal on the blog!
In the Shade of the Mulberry Tree is available for kindle from Amazon for 77p in the UK or $1.17 in the US until 22 June 2013.